Membership of and partnership with AHyRA is open to all African or non-African stakeholders in the rice sector operating or intending to operate in Africa with interest in Hybrid rice technology. Such operations or intentions include broadening the germplasm portfolio, strengthening the human capacity of seed companies, fostering public-private linkages in breeding, seed production, commercialization, and seed business management.
Joining AHyRA is a long-term investment and the benefits of becoming a member are many depending on category. AHyRA presents a neutral platform for key stakeholders in the rice value chain regionally and internationally to complement on each other's' strength in development, promotion and adoption of hybrid rice technology in Africa towards a rice self-sufficient and prosperous continent.
As a key stakeholder in the rice value chain, AHyRA presents you with a unique platform to access to high quality hybrid rice germplasm globally, seed certification and branding for commercialization and opportunities for capacity building on hybrid rice technology.
AHyRA offers 3 membership categories: Bronze, Gold and Platinum. To become a member, click on the tabs below, select category of interest and fill in the membership application form.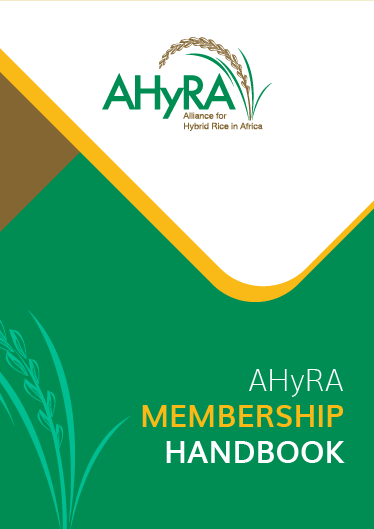 Access to finished rice hybrids for testing and marketing
Access to professional trainings and technical backstopping on hybrid rice technologies at a cost
Limited access to hybrid rice sector Information, Education and Communication (IEC) materials developed by AHyRA
Open access to contribute to the AHyRA Magazine and advertisement at full cost
Access to AHyRA's QMS for seed certification at full cost
Access to moderate germplasm for product development, testing and promotion
Access to professional trainings and technical backstopping on hybrid rice technologies at a cost
Limited access to hybrid rice sector Information, Education and Communication (IEC) materials developed by AHyRA
Open access to contribute to the AHyRA Magazine and advertisement at a discounted cost
Access to AHyRA's QMS for seed certification at discounted cost
Minimal discounts for all your organisation costs for AHyRA events
Access to available germplasm for product development, testing and promotion
Priority to license new rice hybrids
Access to professional trainings and technical backstopping on hybrid rice technologies
Open access to hybrid rice sector Information, Education and Communication (IEC) materials developed by AHyRA
Priority to contribute to the AHyRA Magazine and advertisement
Free access to AHyRA's QMS for seed certification
Access to available donor funds through AHyRA for hybrid rice promotion in Africa
Significant discounts for all your organisation costs for AHyRA events
Be an African or non-African stakeholder in the rice sector operating or intending to operate in Africa
Fill a membership form.
Fill an MOU with AHyRA.
Abide by AHyRA's terms and conditions for membership